Scaffold shrink wrap
When it comes to scaffolding, using heavy duty scaffold shrink wrap is of the utmost importance. Scaffold encapsulation demands certain qualities from the shrink film or scaffold wrap you use to encapsulate a construction site or building. Solicom delivers products that help you master projects of all sizes. Using heat shrink wrap creates a perfectly contained environment. No wind or rain can enter. No dust or sand will escape.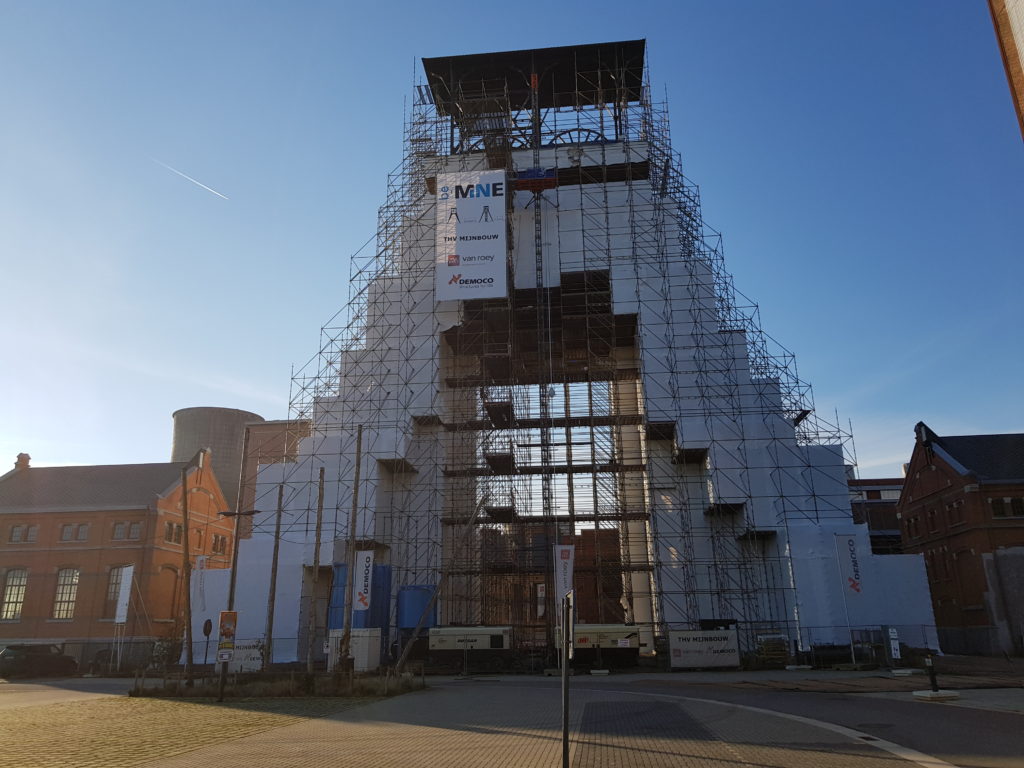 Properties of Verisafe scaffold shrink wrap
Over the years we have fine-tuned the production process of our shrink wrap. Our clients have always been a crucial element through their feedback. Therefore, we have become the market leader in scaffold shrink wrap for scaffold encapsulation. Since the start, we have created a relation of reflection and action with our partners.
Solicom first entered the market in Belgium and the UK. Our products needed to withstand heavy weather. Today the Verisafe brand has built up a strong global reputation. Some major benefits of our scaffold wrap are:
High puncture resistance. Its inflation rate and chemical composition boast the best results on the market.
Fire retardant qualities. Solicom has all the certifications to back up this claim.
Withstanding winds over 100 km/h (field experience has shown wind resistance up to 180 km/h)
The Verisafe film gives you the confidence to get any job done. We've listened to our clients to create solid partnerships over the years. This provided us with the knowledge to further improve our heat shrink foils specifically engineered for scaffold encapsulation.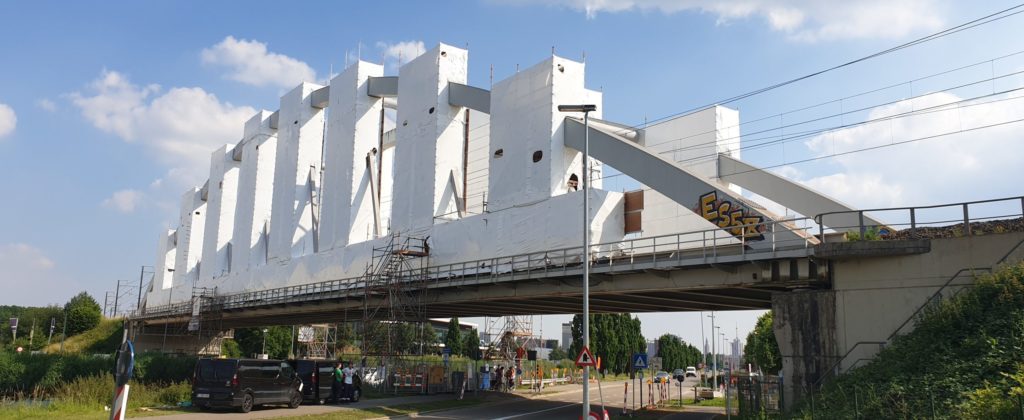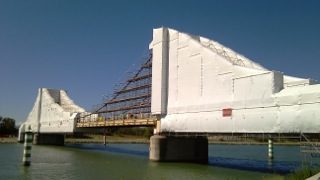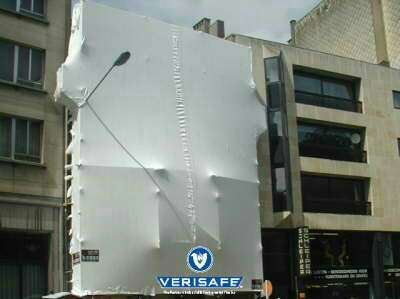 You achieve the best results when using the best accessories. Use the correct shrink wrap heat gun, follow instructions and we will set you up to cover your scaffolds skin-tight.
As market demand keeps evolving, so does the Verisafe product range. We developed heat shrink wrap for effective scaffolding, paint protection, and many more applications. Solicom's research and development is steered by client demand. You encapsulate scaffolding, you know best what's needed in high quality shrink wrapping.
Because client demand determines our improvements, we have become a market leader. Heat shrink plastic comes in a variety of categories. It is our goal to provide every business with the right heat shrink plastic. Tell us what you need, and we'll get to work and produce it.
Think green with scaffold wrapping
Scaffold encapsulation and heat shrink wrap are a perfect combination. But did you know it is the greenest solution available? The polyethylene we use comprises carbon and hydrogen. No harmful substances are used to produce your heat shrink plastic wrap.
Verisafe scaffold shrink wrap is chemically inert and completely recyclable. The quality we produce can be reused, making it more ecological than other solutions. This means it is possible to choose quality without sacrificing your ecological goals.
Order Verisafe scaffold shrink wrap now
Last-minute assignments are often inconvenient. You have to scramble contractors, materials, and other resources in very little time. With Solicom at your side, finding sufficient industrial grade scaffold shrink wrap on short notice won't be a problem. Our stock is large so we can deliver a variety of products fast whenever you're on a deadline. We can produce less frequent colours and sizes on demand.
Our clients come in all sizes. We help large corporation's and we are also a trusted partner for small businesses around the globe. All clients get the same top-quality heat shrink plastic. Scaffold encapsulation is a prime example of the many possibilities of shrink wrap.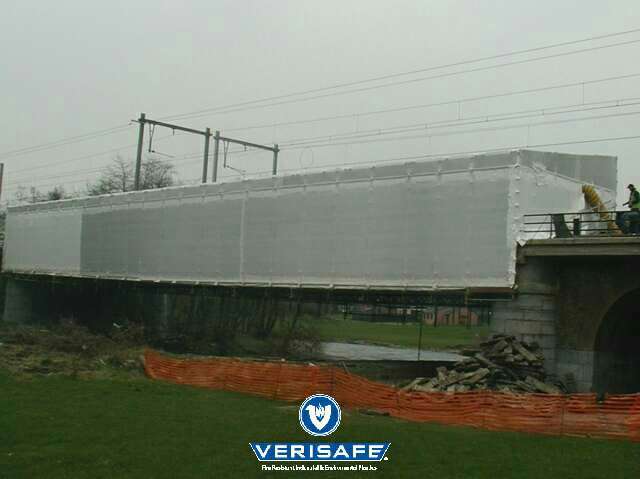 Solicom has been around for a long time. During this time, we have established solid partnerships. It's these partnerships that help us understand the market and its specific demands. We've custom-made Verisafe film to meet all your requirements concerning scaffold wrapping and encapsulation.
We are dedicated to innovation. You can help us by presenting us with the challenges you face daily. This allows us to create the best products possible for you. If it's quality you want, you've come to the right place.
Our team is ready to hear your questions. We'll guide you through our range of products. Don't be afraid to make any special requests concerning heat shrink wrap.
CHECK OUR OTHER SHRINK WRAP SOLUTIONS
Ready to make your order? Our sales team will guide you to buy the heat shrink wrap best suited for your needs.
Contact us for more information
Interested in our products or would you like more information ? Call or email us, we are happy to advise you.
FAQ about scaffolding shrink wrap
What is Scaffold Shrink Wrap in Construction?
Scaffold shrink wrap, also known as shrink wrap scaffolding, is a durable, protective material used to encapsulate scaffolding. It involves using heat shrink wrap for scaffolding to create a secure and solid shield around the construction area. Scaffold shrink wrap cost-effectively enhances the safety and integrity of the work environment.
How Does Shrink Wrap Scaffolding Compare to Other Options?
The strongest shrink wrap typically used in construction, particularly scaffolding shrink wrap, is made of polyethylene and has a 1200 gauge. It is a highly resistant material commonly utilized for industrial applications due to its robust nature. Shrink wrap scaffold sheeting provides a level of strength and durability that other options can't match.
Can Shrink Wrap Scaffolding be Used on Buildings?
Yes, shrink wrap scaffolding buildings is a common practice. This method protects the scaffolding, the building, and the surrounding environment. Scaffold shrink wrap company providers can use shrink wrap for scaffolding to ensure safety and security.
What Materials Are Used for Shrink Wrap Scaffolding?
Shrink wrap for scaffolding is made from specific types of plastics, namely polyethylene (PE), polyvinyl chloride (PVC), and polyolefin (POF). The choice of material depends on the requirements of the scaffold shrink wrap suppliers.
Why should I wrap my scaffolding?
There are several benefits to shrink wrapping scaffolding, including:
Protects workers and passersby from falling debris or objects.
Helps to prevent damage to the scaffolding itself.
Can provide additional stability and support to the scaffolding.
Can be easily removed and re-used on other projects.
Is a cost-effective way to protect scaffolding and ensure safety on the worksite.
Can be customized to fit the size and shape of the scaffolding.
Helps to prevent unauthorized access to the worksite.
Can provide additional visibility, making the scaffolding more easily identifiable on the worksite.
Overall, shrink wrapping scaffolding can provide a number of benefits, including improved safety and protection for both the scaffolding and those working on or near it.
Why is scaffolding wrapped?
Using scaffold shrink wrap offers numerous benefits. It protects workers and passersby from falling debris, prevents damage to the scaffolding itself, and provides additional stability and support. Shrink wrap scaffold sheeting can be easily removed and reused on other projects, making it a cost-effective solution.
How Can I Apply Shrink Wrap to my Scaffolding?
To apply shrink wrap to your scaffolding, you'll need a specific shrink wrap heat gun and follow precise instructions. This ensures the scaffolding is wrapped tightly and securely, maximizing the benefits of the heat shrink wrap for scaffolding.
What is Scaffolding Sheeting and How Does It Relate to Shrink Wrapping Scaffolding?
Scaffolding sheeting, often made of shrink wrap scaffold sheeting, is a protective covering used for scaffolds. It enhances the security of the construction site and acts as a climate shield for both the workers and the scaffolding.
What are LPS1215 and LPCB Verification in the Context of Shrink Wrapping Scaffolding?
LPS1215 is the security standard for scaffold cladding materials, often met by quality heat shrink wrap scaffolding. LPCB, on the other hand, stands for Loss Prevention Certification Board, an independent certification institute by BRE Global that mainly provides approval for fire and security. These standards guarantee the safety and quality of scaffold shrink wrap used in construction.
What is scaffolding sheeting?
Scaffold sheeting is used for covering scaffolds. It provides security for the construction site. It's a climate shield for the worker and the scaffolds.
Whats is LPS1215?
LPS stands for Loss Prevention Standard. LPS1215 is the security standard for scaffold cladding material. It is a requirement for the scaffold sheeting on construction sites. It ensures that the scaffold sheeting passes a number of safety tests.
What is LPCB verification?
LPCB stands for Loss Prevention Certification Board – an independent certification institute by BRE Global. It mainly provides approval for fire and security products. For example we are certified for LPS 1207 (protective materials) and LPS 1215 (scaffold cladding material).
{ "@context": "https://schema.org", "@type": "FAQPage", "mainEntity": [ { "@type": "Question", "name": "What is Scaffold Shrink Wrap in Construction?", "acceptedAnswer": { "@type": "Answer", "text": "Scaffold shrink wrap, also known as shrink wrap scaffolding, is a durable, protective material used to encapsulate scaffolding. It involves using heat shrink wrap for scaffolding to create a secure and solid shield around the construction area. Scaffold shrink wrap cost-effectively enhances the safety and integrity of the work environment." } }, { "@type": "Question", "name": "How Does Shrink Wrap Scaffolding Compare to Other Options?", "acceptedAnswer": { "@type": "Answer", "text": "The strongest shrink wrap typically used in construction, particularly scaffolding shrink wrap, is made of polyethylene and has a 1200 gauge. It is a highly resistant material commonly utilized for industrial applications due to its robust nature. Shrink wrap scaffold sheeting provides a level of strength and durability that other options can't match." } }, { "@type": "Question", "name": "Can Shrink Wrap Scaffolding be Used on Buildings?", "acceptedAnswer": { "@type": "Answer", "text": "Yes, shrink wrap scaffolding buildings is a common practice. This method protects the scaffolding, the building, and the surrounding environment. Scaffold shrink wrap company providers can use shrink wrap for scaffolding to ensure safety and security." } }, { "@type": "Question", "name": "What Materials Are Used for Shrink Wrap Scaffolding?", "acceptedAnswer": { "@type": "Answer", "text": "Shrink wrap for scaffolding is made from specific types of plastics, namely polyethylene (PE), polyvinyl chloride (PVC), and polyolefin (POF). The choice of material depends on the requirements of the scaffold shrink wrap suppliers." } }, { "@type": "Question", "name": "Why should I wrap my scaffolding?", "acceptedAnswer": { "@type": "Answer", "text": "There are several benefits to shrink wrapping scaffolding, including: Protects workers and passersby from falling debris or objects, Helps to prevent damage to the scaffolding itself, Can provide additional stability and support to the scaffolding, Can be easily removed and re-used on other projects, Is a cost-effective way to protect scaffolding and ensure safety on the worksite, Can be customized to fit the size and shape of the scaffolding, Helps to prevent unauthorized access to the worksite, Can provide additional visibility, making the scaffolding more easily identifiable on the worksite." } }, { "@type": "Question", "name": "Why is scaffolding wrapped?", "acceptedAnswer": { "@type": "Answer", "text": "Using scaffold shrink wrap offers numerous benefits. It protects workers and passersby from falling debris, prevents damage to the scaffolding itself, and provides additional stability and support. Shrink wrap scaffold sheeting can be easily removed and reused on other projects, making it a cost-effective solution." } }, { "@type": "Question", "name": "How Can I Apply Shrink Wrap to my Scaffolding?", "acceptedAnswer": { "@type": "Answer", "text": "To apply shrink wrap to your scaffolding, you'll need a specific shrink wrap heat gun and follow precise instructions. This ensures the scaffolding is wrapped tightly and securely, maximizing the benefits of the heat shrink wrap for scaffolding." } }, { "@type": "Question", "name": "What is Scaffolding Sheeting and How Does It Relate to Shrink Wrapping Scaffolding?", "acceptedAnswer": { "@type": "Answer", "text": "Scaffolding sheeting, often made of shrink wrap scaffold sheeting, is a protective covering used for scaffolds. It enhances the security of the construction site and acts as a climate shield for both the workers and the scaffolding." } }, { "@type": "Question", "name": "What are LPS1215 and LPCB Verification in the Context of Shrink Wrapping Scaffolding?", "acceptedAnswer": { "@type": "Answer", "text": "LPS1215 is the security standard for scaffold cladding materials, often met by quality heat shrink wrap scaffolding. LPCB stands for Loss Prevention Certification Board, an independent certification institute by BRE Global that mainly provides approval for fire and security. These standards guarantee the safety and quality of scaffold shrink wrap used in construction." } }, { "@type": "Question", "name": "What is scaffolding sheeting?", "acceptedAnswer": { "@type": "Answer", "text": "Scaffold sheeting is used for covering scaffolds. It provides security for the construction site. It's a climate shield for the worker and the scaffolds." } }, { "@type": "Question", "name": "Whats is LPS1215?", "acceptedAnswer": { "@type": "Answer", "text": "LPS stands for Loss Prevention Standard. LPS1215 is the security standard for scaffold cladding material. It is a requirement for the scaffold sheeting on construction sites. It ensures that the scaffold sheeting passes a number of safety tests." } }, { "@type": "Question", "name": "What is LPCB verification?", "acceptedAnswer": { "@type": "Answer", "text": "LPCB stands for Loss Prevention Certification Board - an independent certification institute by BRE Global. It mainly provides approval for fire and security products. For example, we are certified for LPS 1207 (protective materials) and LPS 1215 (scaffold cladding material)." } } ] }