Aerospace and aviation shrink wrap
The aerospace and aviation industry demands high-quality, heavy duty protection in order to keep machinery and equipment safe from the elements. Aviation shrink wrap equipment, like aircraft or helicopters, requires special qualities in materials. Using Solicom aviation shrink wrapping is one of the most ecological solutions to protect gear with special shapes and needs. By encapsulating aviation equipment with our Verisafe aviation and engine heat wrap, you may rest assured that your equipment is protected from outside elements.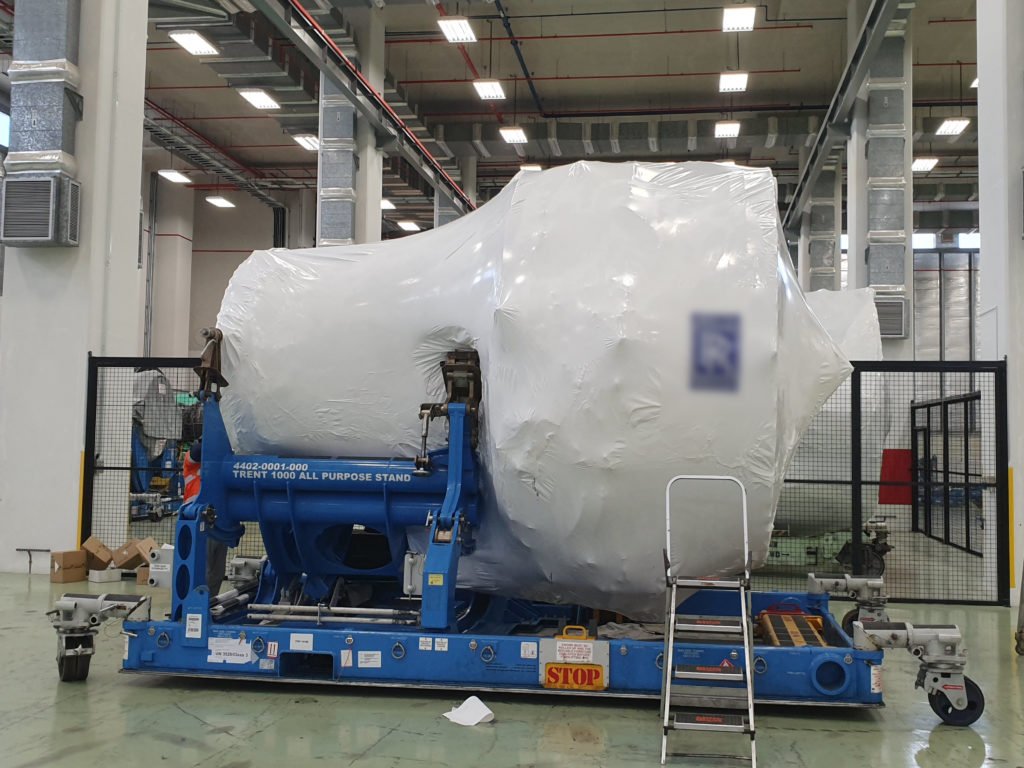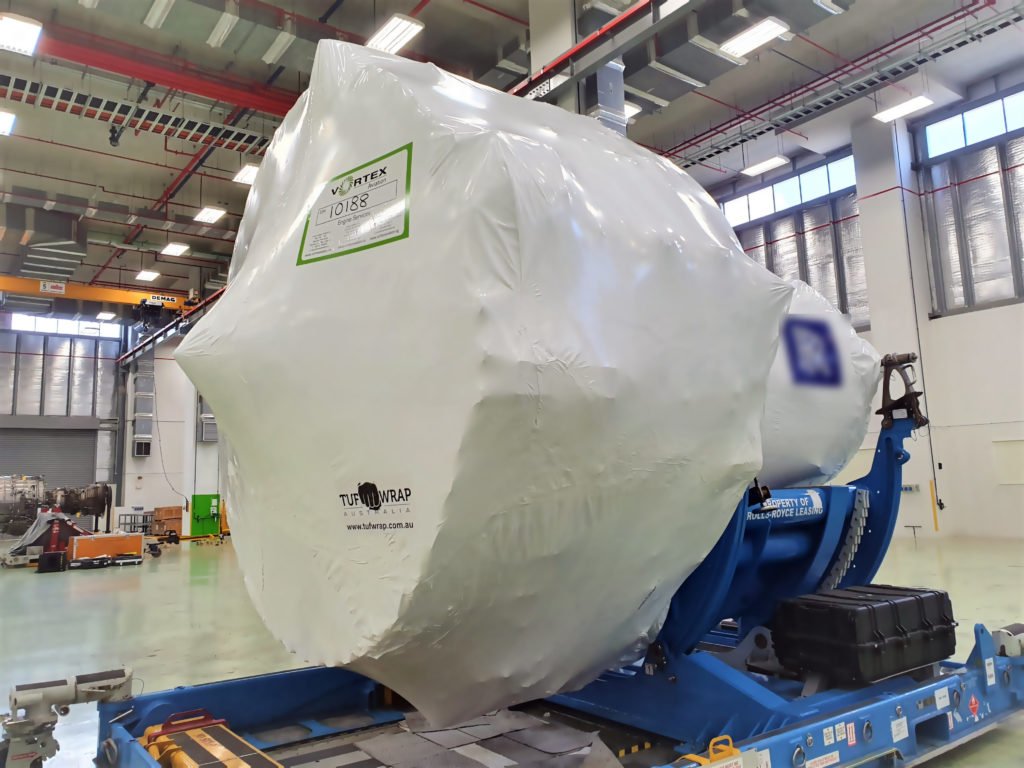 Amazing properties of Verisafe aviation wrap
The production process of our heat shrink film has been fine-tuned over the years. We receive important feedback from customers in a variety of industries. With this valuable information, we created our durable, heavy duty shrink film, which can be used in many original use cases. We are the market leader in heat shrink wrapping for large and smaller items. Our engine wrap can be used for large items with odd or irregular shapes. Aside from boats and yachts, aircraft and helicopters can be wrapped or covered skin-tight to protect them from harsh weather, dust, frost, and other threats.
Some of the most important benefits our engine heat wrap offers, are:
Unparalleled puncture resistance
Fire retardant qualities
UV protection
Bidirectional shrinking: our wraps shrink evenly in each direction
The aerospace and aviation industry are some of the most challenging industries to work with. Aircraft have irregular and odd shapes, which can be difficult to cover or wrap. To meet the demands of this industry, Solicom has put in a lot of effort to produce the right cover to get the job done. Aviation wrap has to be sturdy and puncture resistant. Aircraft covers also need to be easily applicable and protect your gear from all the elements. Verisafe aircraft covers and engine wraps are a perfect fit for the job!
We noticed a changing market demand and decided to keep our product range up to date. That's why we developed a heavy duty shrink film which allows you to protect aircraft, aircraft engines, aircraft wings, and other aviation gear. The development of our products is steered by customer demand. You know exactly which qualities you need for aircraft covering. You have the expertise and we are keen to listen to your thoughts and feedback.
Used cases for aviation wrap
Verisafe heat shrink foil lends itself perfectly to encapsulate large items with irregular shapes, whether those items are ships, yachts, or aviation equipment. Our high-quality aviation wraps can be applied to a variety of objects and the used cases are broad. These are a few examples of these used cases in the aviation and aerospace industry.
Aircraft covers
Aircrafts are quite large and oddly shaped. Covering an aircraft is not a simple job. That's why it pays off to use quality materials to get the job done more easily. By heat shrink wrapping and aircraft, you get a skin-tight fit around each element of the aircraft.
Aircraft engine covers
In order to encapsulate aircraft's engines separately, heavy duty aviation shrink wraps are a perfect way to protect your equipment from outside attacks. Our engine heat wrap is versatile and easy to apply with the tools we provide.
Aircraft wing covers
Even for covering aircraft wings, Verisafe heat shrink film is a great fit. Even though aircraft wings have a large and uneven shape, they can easily be covered with our aviation wraps. Thanks to the bidirectional shrinking qualities, the cover will fit the aircraft wing like a glove.
Aviation cover
Verisafe aviation covers are a perfectly snug fit for any aviation equipment, from engines to aircraft parts or even entire aircrafts. Spare parts that need to be kept in a clean, corrosion-free environment can be wrapped in order to preserve them in a pristine condition. If it needs a sturdy protection and you want to encapsulate or cover it, our aviation cover wrapping is the perfect solution.
Shrink wrap for aerospace appliances
The aerospace industry is a very demanding industry where parts are costly. Spare parts or parts that are kept in stock need to be preserved in the best possible conditions. Flaws or damage is unthinkable. So, a highly protective cover is essential.
Add an ecological factor to your aircraft covering
Did you know that our aviation shrink wrap and engine wrap are an ecological solution to protect your aircraft and parts? Verisafe heat shrink wrap is composed of polyethylene, which only comprises carbon and hydrogen. None of our products contain any pollutants. Our materials are chemically inert and completely recyclable.
Selecting Verisafe shrink film is a green solution for the aerospace and aviation industry. You don't have to sacrifice your efforts in being a green and ecological industry, in order to protect your materials and equipment.
Get your hands on our Verisafe aviation shrink wrap
Our clients come from a variety of industries and businesses, and we have been around for a very long time. That gave us enough time to get our products sorted out. We always have a large stock of engine heat wrapping rolls available. This is how we can provide our clients with large quantities of aviation covers in a short amount of time. If you need an aircraft cover quick, we can deliver a variety of products on short notice. We can also produce less frequent colours and sizes on demand, as needed.
We always aim to improve our products. We do so by listening to our clients in different industries. If you have special needs or demands for your aircraft cover, we definitely want to hear about it. Present us the issues you face daily. This way, we can improve our products or develop new products to satisfy the demand. That's how we create the best possible products for our clients. If you're looking for heavy duty, high-quality products, Solicom is the perfect partner for your business.
Our team is always ready to answer any of your questions and offer you expert advice on our products and solutions. If you have any special request, get in touch with us. We can surely help you out!
CHECK OUR OTHER SHRINK WRAP SOLUTIONS
Ready to make your order? Our sales team will guide you to buy the heat shrink wrap best suited for your needs.
Contact us for more information
Interested in our products or would you like more information ? Call or email us, we are happy to advise you.